A warm welcome in our ApartmentHotel Vollumen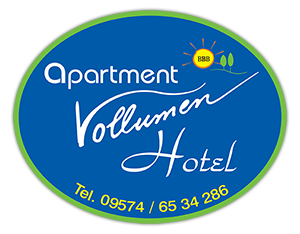 I'm happy you found us. Our apartments offer what you can't find anywhere else. Room to move freely and uninterrupted. Drinks and food you selected yourselves and prepared yourselves, just like at home. A well thought through concept making you feel welcome and comfortable and in which you can, should you want to, work in a relaxed atmosphere. Whether you are on vacation and want to finish your evening at the romantic fireplace or, after a day full of work just want to relax with some good music lying down on the comfortable sofa. It's your choice and we are glad to provide you the environment to feel home away from home.
No constant interruption and door-knocking by room-service and housekeeping, no small rooms with loveless, minimalistic furniture, this is not us.
Quite the opposite: our well appointed and completely equipped apartments (with loggia and balcony) offer you plenty of room to retire after a full day either at work or during holidays, whether alone, as a pair or with up to 5 people.
We offer you apartments which were designed with a lot of love, attention for detail and full of ideas. We included in our design concept plenty of experience from Feng Shui and Geomancy know-how providing you with the results of the most advanced international rules of design. All apartments are individually styled and generously sized, optimally furnished and completely equipped. We offer you unique solutions for your private or business stay in the area with apartments you won't find anywhere else in the region.
See yourself and have a look at our apartments by clicking on this link.
There are many other advantages for you such as the location. Our apartment hotel is centrally located in Redwitz an der Rodach, direct at the B173 and between the two regional centres Kronach and Lichtenfels/Coburg as well as Kulmbach. We are only a 10 min drive away from the A73 freeway.
From our location you easily reach in 30 min or less:
the thermal bath resort town Bad Staffelstein
the castle town Coburg or
Rödental with its Hummel-Museum
the secret beer capital Kulmbach with its tin-figurine museum
the world heritage cathedral city Bamberg with its world renowned symphonic orchestra
the Franconian Forest and Rennsteig hiking and biking trail
the Balthasar-Neumann-Basilika Vierzehnheiligen
or the Banz Monastery, a former monastery of the Benedictine monks with its great summer concerts
Within 45 minutes you reach the famous Wagner town Bayreuth.
All in all you are in the heart of Upper Franconia and within close reach of its beauty and diversity, wether on business or on holidays
Facilities:
non-smoking apartments
free parking
mostly on ground floor
all towels, bed lines etc. inclusive
completely equipped kitchen (standard apartments with microwave and fridge, waterboiler, toaster and coffeemaker)

complimentary tee and instant coffee

most apartments with balcony or loggia and with nature view
Business Apartments and junior suites with

printer and use of fax
Stereo-sound-system, partly with Bluethooth and USB port

work area with free Wlan
flat screen TV
some apartment with open fireplace
suitable for guests with restricted mobility
cafe' / lobby area
meeting room
sound proof windows
english speaking staff during the day
room service between 08:00am and 02:00pm
pets allowed upon prior agreement (15 Euro p. night)


10% early bird discount (no cancellation/only with credit card)


fresh bakery breakfast buffet can be booked separately
breakfast from 06.00 to 12.00am